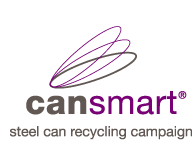 ARCHIVE NEWSLETTER
November 2006 Newsletter
Pester power in green education
Cleaning up the MUDs
Waste management greener is smarter (UK)
CANZBAC promotes strong message at national packaging show
Larger tins foil attempts to dispose of them
Snapshot of Steel Can Recycling in Australia
Fast Facts
October 2006 Newsletter
Penrith uses the 'competition' to boost its steel can recycling rate
Steel Can Steve comes to life at Bankstown
Record high for Corus steel can collections
Packaging / recycling firm Visy switching to green fuel (AUS)
Recycling calculator adding up the benefits
Re-launch of Australia's industry recycling materials specifications manual
RELEASE: NATIONAL RECYCLING WEEK 6th – 12th November 2006 'Green' light for recycling cans
September 2006 Newsletter
'Removing the Divide' Maroondah City Council leaps into commingled recycling
Metal and steel packaging products available direct to the public for
the first time
Steel the premium brand packaging material
Trash dance – what a feeling!
Corus offers ᆪ30,000 prize money for can suppliers (UK)
Clean as a whistle Spring cleaning is in the can!
August 2006 Newsletter
Penrith City Council keeps the pressure on
Gosford City looks for recycler of the year
Ballina Shire Council hits the streets with recycling leaflets
VISY gets ready for the big muster!
Sustainability Victoria releases record recycling figures
New Zealand's Glass Recycling Crisis
Waste recycling system to eliminate manual handling
Science week – using steel cans for experiments
July 2006 Newsletter
Gosford City Council checks out good practice in Europe Kangaroo
Island residents to get kerbside recycling!
Panel beating at  pet food factory
CSIRO report adds  further mettle to steel's environmental credentials
 Steel tries to shed its smokestack image (USA) IPS – International
Packaging Study 2005 Innovative sculptures  from cans!
June 2006 Newsletter
How well set up is your kitchen for recycling?
Council Activity Around the Country
It may be ok to spray but is it ok to recycle?
The National Packaging Covenant ? where is it at?
Consumers trust the can ? more than ever
Collect a CAN this World Environment Day!
New look can car hits the road
Corus re-launches steel recycling education website
Attention all councils!
May 2006 Newsletter
Council call up welcomed in New Zeland
Steel Can Recycling Council partners with brandowners to support council led shopping centre activities
Consumers trust the can – more than ever
Radio Frequency Identification (RFID) Tags – copper content detrimental to recycling
Kids CAN cook for mum this Mother's Day and help the environment!
April 2006 Newsletter
Steel Can Recycling Council to provide new promotional materials for councils
Watching their waste residents of Ryde City Council to get new waste collection service
Paintback goes from strength to strength
SPC Ardmona awarded for using recyclable steel logo
It's rubbish this lecture!
Recycling rocks!
Are you still working on your National Packaging Covenant goals and actions?
March 2006 Newsletter
Sydney councils band together to recycle more steel
Steel Can Steve muscles in on superhero turf
Fully closing the loop for ink cans – Siegwerk Australia's steel can recycling initiative
Steel recycling – shredding plant open to public for first the time
Major retailers join wrap in pledging to tackle packaging and food waste
Wrap helps Heinz adopt lightest steel can ends in uk
Visy joins evolution
Councils promoting steel can recycling – we want to hear from you!
Lucky door winners take their prize
February 2006 Newsletter
Woollahra Council rewarded for recycling efforts
Bins ahoy!
Easter activities for councils
Aerosol awareness
Scottish organisation has a 'can-do' attitude.
Welsh Council set to improve poor recycling reputation
Cansmart gets even smarter online
PRESS RELEASES
Can crushing in commercial kitchens
Woolworths get their paws on recycling logo
January 2006 Newsletter
Fairfield City Council Showcases UR-3R Facility as Runner Up in Steel Can Recycling Award
Unley doubles steel can recycling this Millennium
Waste Management for an isolated community: Lord shows us Howe
Fit for recycling protein shake cans get a chance at another life!
Cansmart Christmas Campaign
You don't have to be big to be bold!
Cansmart website gets a fresh look
Heineken releases steel mini-keg
WRAP to refocus as it ups its impact
Cow – themed recycling containers arrive in London
December 2005 Newsletter
Australian Councils reminded about steel can recycle at National Congress
National Recycling Week – giving steel cans a second chance
UK Council saves water by bringing steel recycling to the streets.
Morris McMahon promotes use of recycling logos
HOPE for recycling education
Opportunities for brand owners in recycling education
Steel Can Recycling Council supports industry
November 2005 Newsletter
Steel Can Recycling Council's Challenge to Local Government
Focus On – Gosford City Council
Round them up, rinse them out, run them in
Paintback WA puts the gloss on paint recycling
Recycling could win with household lottery (UK)
UK to boost recycling amongst SMEs (UK)
Advertising Templates for Councils
Environmental Games
NPC Action Plans
Useful Facts & Figures
October 2005 Newsletter
Melton City
 Council achieves steel can recycling rate above the national average
SCRC signs up to National Packaging Covenant
Benefits of recycling quantified with DEC's new recycling calculator
National Recycling Week coming up
Autumn 2005
Coles campaign boosts consumer awareness
Giveaway hampers hailed as huge success
What's in our bins?
Sifting through the bins – who does it?
Getting the message across to shoppers?
Covenant Mark II on track for tougher goals
The CEO of ACOR shares the issues, challenges and priorities facing the recycling sector today
NZ steel can recycling gets makeover
Summer 2004-2005
Rhodes to recovery
BlueScope trucks sport new recycling logo
Zero cost steel can collection
Councils highlight steel cans for National Recycling Week
Are you ready for the challenge?
Canned Food Information Service becomes the Canned Food Industry Association
Breakfast for brandowners
Free cooking oil collection trial
Farewell to Mike Vendy
Wanting to get recycling started in your area or recently introduced a recycling scheme?
Craft kits and competition prizes for councils
Winter 2004
Freeing the garden shed of old paint — Paint cans and aerosols – hazardous or harmless — Stuck in the MUDS — Are you using this logo — Steel Can Recycling reviews Best Practice Awards — VISY Industries wins 2004 Gold Banksia Award
Autumn 2004
Who Cares About the Environnment – New Waste Education Kits available in Queensland – The National Packaging Covenant: Where is it at now – Second Paintback (TM) Trial takes place in Victoria – Interview with Anglela Maier, Waste Educator at Canterbury City Council, 2003 Steel Can Recycling Award Winners – Bankstown gets crafty with cans – Visy takes consumer campaign to new levels – ACCC extends Drummuster scheme.
Summer 2003/2004
Best Practice Awards 2003 winners announced – Fast Forward Five Years Industry Breakfasts – Steel garden sculpture finally home – Australian Business Enhances Environmental Performance – SCRC study trip to Scotland – Recycling media comment.
SCRC Melbourne Industry Breakfast – Speaker Slides – Jon Ward
Jon Ward, EcoRecyling's Manager Sustainable Production & Consumption, spoke in Melbourne at the industry breakfast forum, hosted by the SCRC, October 29, 2003.

SCRC Melbourne Industry Breakfast – Speaker Slides – Michael Daddo
Managing Director of M&C Saatchi, Michael Daddo, spoke at the industry breakfast forum in Melbourne, hosted by the SCRC, October 29, 2003.

Spring 2003
Steel Can Recycling Council keen to boost recycling schemes – SCRC Best Practice Awards On Again – Current national packaging covenant too light on – Snap shot of international recycling initiatives – Launch of recycling specifications & guidelines – "Can It" promotion sets new record – QLD EPA boost recycling funding scheme – Fast forward five years – Jamie Durie brings recyclable steel garden sculpture to life.

Winter 2003
"And the recycling gong goes to…" – Kids captivated by cans – Paint recycling collection on trial – Steel can recycling competition – NSW EPA targets 'wastes of concern' – Willoughby wheels in steel can recycling – Aerosols get behind new recycling logo – Tackling cooking oil drum recycling.

Autumn 2003
New cansmart website – China looks to SCRC for steel can recycling good practice – Steel cans make gaol break – Signing up to the club – Edgell leaps ahead in labelling – Port Stephens double dips for better steel can recovery – Maroochy repays recycling residents
Summer 2002- 2003
Stepping out to steel can recycling abroad – Best Practice Awards round-up – Blown away by Best Practice – Hats off to Hornsby! – Syncopated steel – Surf Coast wheels in new recycling service – Councils get with the program

Spring 2002
New logo launches industry into spotlight – Logo launch vox pops: Attendees' thoughts revealed! – Local Government given a chance to interrogate the experts – Strathfield Council chips in to encourage steel can recycling – The sticky paint problem – Hotline buzzes – How does Australia compare to other countries in regard to steel can recycling?

Winter 2002
Metals: The 'New Renewables' – Mustering a resource from the country – Victorians top of the rubbish pile – Who influences household recycling – It's OK to recycle aerosols.

Summer/ Autumn 2002
Is the recycling of steel cans a sticky issue? – Can labelling to change recycling habits – Steel: A recycling success the inaugural Best Practice Awards – The winning profile – Kogarah steels the edge – Strong commitment and support for steel can recycling.

Spring 2001
Warringah Council uses dogs to increase steel can recycling – Are we getting better at recycling steel cans? – Paint manufacturers in Australia support steel can recycling – Crush down on waste volume – Visy leads the field in aerosol recycling.

ARCHIVE NEWS
Clean Up Australia releases 2004 Annual Report (AUS)
13 April 2005
Our 2004 Annual Report focuses on the ways that Clean Up Australia has encouraged communities, businesses and government to take practical action to clean up, fix up and conserve our environment.
Sustainable Packaging courses in 2005
11 April 2005
A two-day course incorporating an overview of packaging sustainability including strategies, case studies and decision-support tools. RMIT's Centre for Design has developed Sustainable Packaging 2005 in conjunction with its partners in the Sustainable Packaging Alliance from Victoria University and Birubi Innovation.
ARCHIVE PRESS RELEASES
No Press Releases Available.