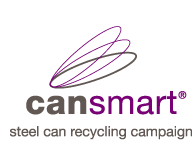 NATIONAL PACKAGING COVENANT GOALS
The SCRC in recognition of the importance of voluntary producer responsibility schemes, has become a signatory to the NPC and is keen to work with industry to ensure that the current version of the Packaging Covenant remains voluntary.
The SCRC will be publishing its action plan in the next few months. In the meantime though the Steel Can Recycling Council can help brandowners working towards their own action plans.
How the SCRC can support brandowners
1.The SCRC undertakes research annually to examine the following:
Consumer attitudes to recycling
Bin audits to establish which types of steel packaging consumers are better at recycling and which ones more frequently are sent to landfill
Supermarket aisle research to monitor the use of recycling information on pack
The results of these research strands are available to brandowners free of charge.
2.The SCRC can provide brandowners with technical and design support for including the recyclable steel logo on packaging.
3.The SCRC can work with brandowners to raise awareness of the recyclability of steel packaging using brandowner collateral and media.
4.Brandowners including goals around the use of the recyclable steel logo will gain easy wins towards their action plans.
For more information please contact Lisa Kinahan 1800 073 713 or [email protected]